Tzatziki
If you've visited Greece or any of its Islands you definitely came across one of the most delicious starters/side dishes out there, tzatziki.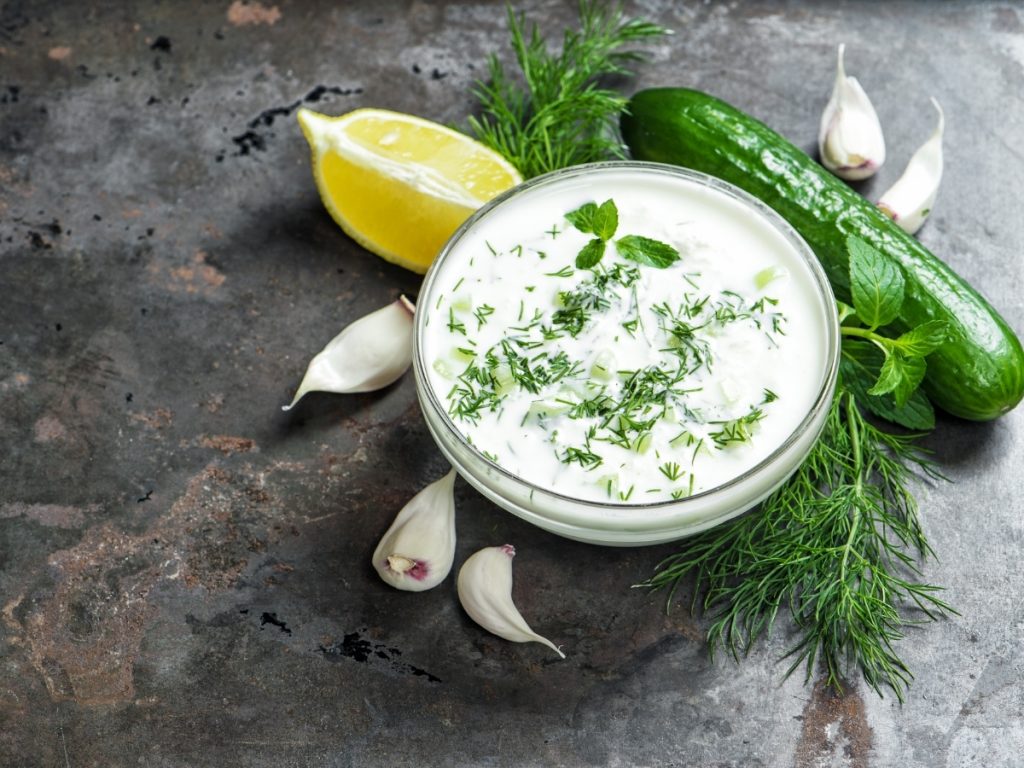 Tzatziki is a dish that dates all the way back to ancient times. Sources suggest that this sauce was created out of the need to make use of the excess yogurt produced during those times. Not surprisingly the word 'Tzatziki' is derived from the Persian word 'zhazh' and Turkish word 'cacik', which both essentially mean 'herb mixture'.
Tzatziki is the sort of thing you will find in every household during breakfast, lunch, and dinner. Nearly as common as its best of mates – pita bread, the zesty-tasting sauce is a staple in Greek cuisine and even though it's simple to make, it requires prime quality ingredients for it to be worthy of serving.
In this article we are sharing the ultimate tzatziki recipe with you. Enjoy the zesty amalgam of flavours as a side dish, or simply enjoy by itself. Let's get started!
First off, Tzatziki was originally made with white vinegar, however, you can use any alternative such as a fresh lemon or lime.
The prep will take you roughly 15 minutes.
Ingredients
1.5 cup (350 g) whole Greek yogurt
1 (200 g) medium cucumber
2 cloves garlic
4 tbsp extra-virgin olive oil
1 tbsp white wine vinegar
1 tbsp fresh dill, minced
½ tsp table salt
Instructions
SEASONING THE GREEK YOGURT
Begin with grinding the fresh dill and garlic. Next, combine the Greek yogurt with the extra-virgin olive oil, dill, and garlic. If you are preparing Tzatziki sauce in advance, store the mixture, wrapped, in the fridge up to 24 hours, then proceed to the next step; otherwise go forward immediately!
FINISHING AND SERVING
Grate your fresh cucumber with the 'large holes' side of the grater. Now, pour the grated cucumber in the sieve, add a pinch of salt and stir out the vegetable water by pressing vigorously with a spoon. Finally, mix the cucumber with the yogurt sauce, salt to taste and enjoy!
Dare to try tzatziki when holidaying at one of our Louis Hotels in Cyprus or Greece.