The ultimate 3-day road trip in Cyprus
For those that love road trips, Cyprus is an ideal place for just that. The entire island has an area of 9,251km2, with its coastline covering up to 400 miles (644km) long all the way around. Our ultimate road trip, however, won't be nearly as long.
We've selected an ideal route for nature lovers. Combining the deep blue waters of the Mediterranean Sea with the lush greenery of Cyprus's mountainside. Starting in the city of Paphos, you should head north towards the village of Latsi. On the way, you will pass the Akamas peninsula. West of this location, lies the Blue Lagoon, an oasis of calming scenery and a relaxing atmosphere. This is the perfect moment to enjoy the inviting waters and explore the shore filled with ocean fauna. Don't rush, the scenery is breathtaking and stretches beyond the crystal clear waters.
Our next stop will take you to the seaside town of Polis. Dating back to the Neolithic era, the town is perfect for those seeking to combine an afternoon of relaxation with history. This is an ideal pit-stop for an overnight stay, to witness the mesmerizing sunset at Polis bay. Make sure to book a place at Polis 1907 for a comfortable and pleasant experience during your travels.
As you continue on your 3-day adventure, head northeast towards the coastal village of Pomos. This stunning location combines a magnificent mountainous coast with the azure blue waters of the Mediterranean. Being famous for the fishing activity, Pomos is also a great place for exploration. Follow the trail to the renowned 'Dragon's Cave' amidst the majestic horizon painting the sky golden, and you may be able to get a glimpse of the legend for yourself.
Continuing on, you will leave behind the lush greenery and golden sand of the shore, for the dense greenery of the mountainside of the Paphos forest. Following the route through the Paphos Forest, you will eventually reach Cedar Valley. A unique location, the valley is filled with about 130,000 endemic Cedar subspecies. A truly wonderful experience, especially for nature lovers. Enjoy a picnic with your family and friends below these majestic trees in the designated picnic area. Once you're done, we would recommend taking a hike through the various nature trails around the valley.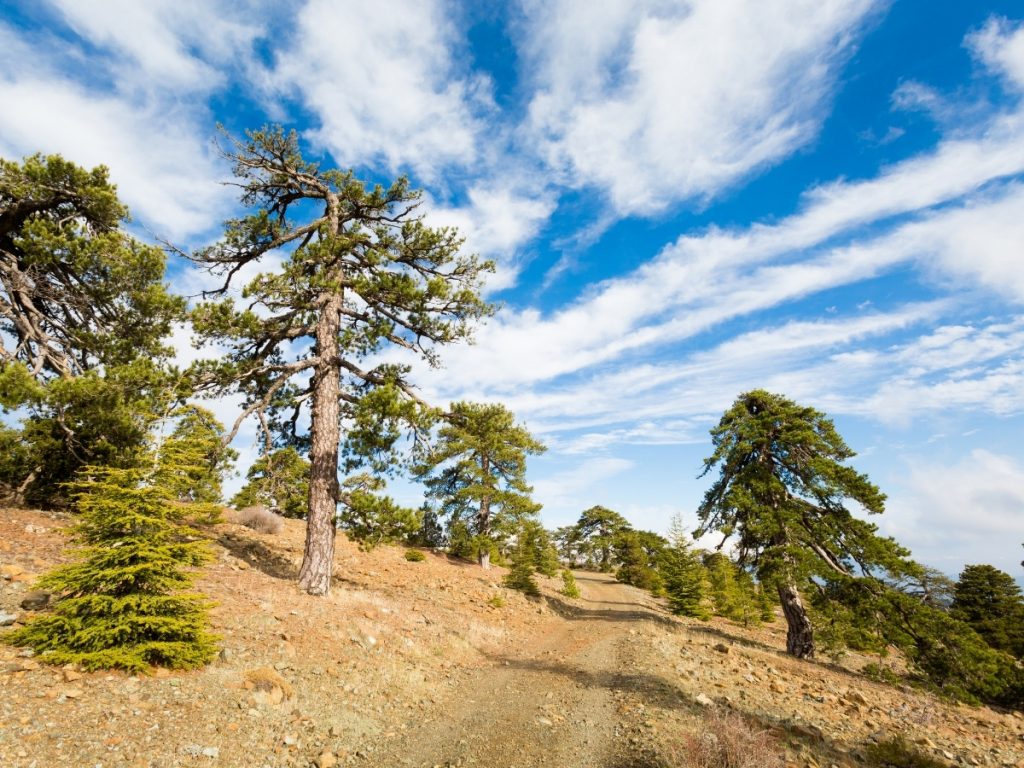 We finish our 3-day road trip at a peak, specifically the peak of mountain heights located on the highest point on the island, Mount Olympus. At an altitude of 1,952 meters high, the mountain offers views of the endless greenery merging with the deep blue of the ocean in the background during the summer. While in the winter it becomes a winter wonderland, covering the entire region with silky white snow.