VOYA: Louis Hotels Exclusive Collection Magazine!
VOYA Magazine is responsible to transport you through time across five different destinations exploring culinary stories and mindful exercises.
Responding to these emerging industry trends and anticipating market demands, we have shifted our focus towards adding a premium lifestyle brand, reimagining our collection of existing and new-build hotels in the most popular islands of Greece.
Opened in 2022, awash in beautiful, bohemian chic aesthetics, the revived Mykonos Theoxenia becomes the perfect destination for the trend-conscious traveler who embodies the island's effortless, barefoot charm.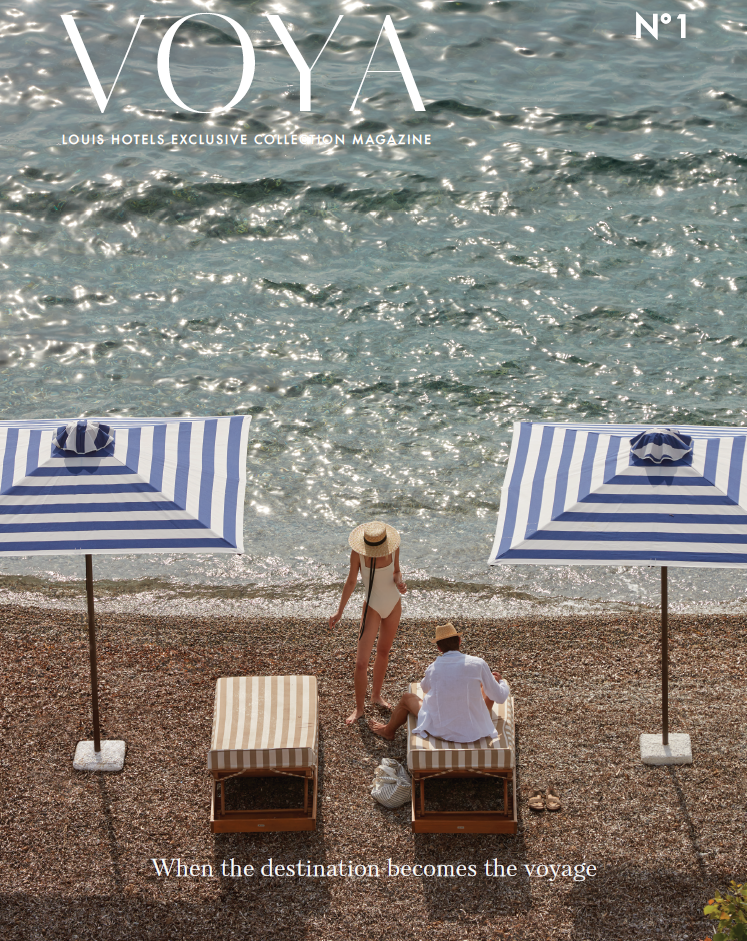 Asterion Suites & Spa is an honorary member of the Exclusive Collection of Louis Hotels, shines bright, selfdefining – not redefining – the new rules of lifestyle luxury. from historical sites, picturesque villages and exotic sandy beaches, to diving excursions, wine tasting, shopping and nightlife, just 15KM from Chania town.
Once in Mykonos… always in Mykonos is an excellent blend of a glorious past and an auspicious future. The villa of a prominent businessman who hosted among other famous Greek personalities has now been transformed into a luxury hotel for Adults Only aiming at offering them the experience of being treated as treasured friends.
For King Jason Zante, hospitality means to welcome with warmth and care, anticipating and tending to your every need so that you can fully live every moment. What is living slow? It's taking your time to breathe, eat consciously, and integrate everything you touch. Inspired by the old-world charm, dapple and dazzle of the Italian Lido, Valmar is a hotel of distinct temperament and character. An extraordinary coastal hotel awaits you, with staggering views over the Ionian Sea, well cosseted in a mythic, lush backdrop of pine-peaked hills and cypress tree.
To explore the magazine and find out more, click on the link below!
https://www.flipsnack.com/louishotels/voya-exclusive-magazine/full-view.html