Protaras: A Family Paradise for Unforgettable Activities
When it comes to finding the perfect destination for a family vacation filled with exciting activities and cherished memories, look no further than Protaras, Cyprus. This sun-soaked coastal town is a hidden gem that offers an array of family-friendly experiences that cater to all ages. From thrilling water sports to cultural explorations, Protaras has something for everyone in the family. Let's delve into why Protaras is one of the best destinations for family activities.
Pristine Beaches for Endless Fun
Protaras is renowned for its stunning beaches with soft golden sands and crystal-clear waters. Fig Tree Bay, in particular, stands out as a haven for families. Its shallow and calm waters are perfect for little ones to splash around in, while older kids and parents can enjoy various water sports like paddleboarding, kayaking, and even parasailing. Building sandcastles, collecting seashells, and simply lounging under the sun make for endless beachside enjoyment.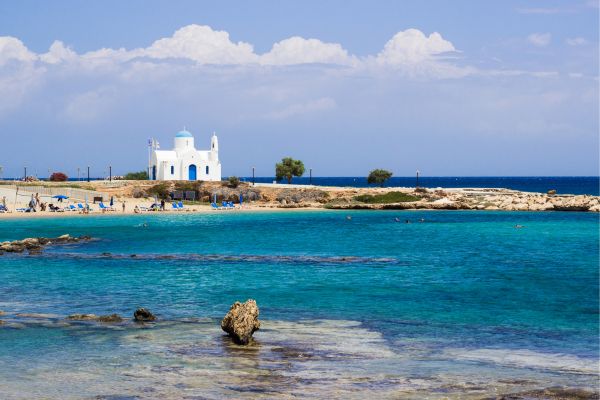 Exploring the Magic of the Underwater World
For families who love adventure, Protaras offers remarkable opportunities for snorkeling and diving. The warm Mediterranean waters are home to vibrant marine life and underwater caves waiting to be explored. Kids will be thrilled to observe colorful fish and maybe even spot a sea turtle or two, creating unforgettable memories of their underwater escapades.
Cape Greco National Forest Park
Embark on a family-friendly trek through the scenic Cape Greco National Forest Park. The trails wind through picturesque landscapes, limestone cliffs, and hidden caves. A visit to the famous "Love Bridge" is a must – it's said that those who cross it will be bonded forever. Capture stunning family photos against the backdrop of the park's natural beauty.
Waterworld Water Park
For a day of exhilarating family fun, Waterworld Water Park is an absolute must-visit. Packed with thrilling water slides, lazy rivers, and play areas for younger kids, this water park guarantees a day full of laughter and excitement. It's the perfect way to beat the heat while creating cherished memories together.
Cultural Excursions
Protaras offers opportunities for families to delve into Cyprus' rich history and culture. A visit to the Ayia Napa Sea Caves can be both educational and captivating. The nearby Ayia Napa Monastery showcases stunning architecture and provides insights into the island's heritage.
Protaras stands out as a top-notch destination for families seeking a blend of sun-soaked relaxation and exhilarating activities. With its diverse range of experiences catering to all family members, there's no doubt that this coastal town will leave you with cherished memories that will last a lifetime.
For the perfect family stay in Protaras, look no further than Louis Hotels.