Discover the 5 Most Exotic Beaches in Corfu
When it comes to idyllic Mediterranean getaways, the Greek island of Corfu stands out as a jewel in the crown. Its picturesque landscapes, turquoise waters, and rich history make it a favored destination for travelers seeking an unforgettable beach vacation. Among the island's many treasures, its exotic beaches steal the spotlight, each offering a unique and stunning experience. Let's take a journey to discover the five most exotic beaches in Corfu that are bound to leave you in awe.
Porto Timoni Beach
Hidden away on the northwestern coast of Corfu, Porto Timoni Beach is a true hidden gem. Accessible via a scenic hike from the village of Afionas, this beach boasts not just one, but two stunning coves with crystal-clear waters. The panoramic views from the cliffside vantage point along the hike are nothing short of breathtaking and provide a hint of the beauty that awaits.
Canal d'Amour
Located in the charming village of Sidari, Canal d'Amour is a beach defined by its unique rock formations and mythological allure. According to local legend, couples who swim through the narrow channel formed by these rocks will experience eternal love. Even without the legend, the stunning rock arches, secluded coves, and crystal waters make this beach a must-visit.
Issos Beach
For those seeking a more tranquil and untouched experience, Issos Beach offers a haven of natural beauty. Situated on the southwestern coast, this sandy stretch is surrounded by lush sand dunes and cedar trees. The shallow, warm waters and golden sands create a picturesque setting, perfect for unwinding and immersing yourself in nature.
Myrtiotissa Beach
Tucked away between dramatic cliffs on the western side of the island, Myrtiotissa Beach has a reputation for being one of the most beautiful and secluded spots in Corfu. Known for its stunning sunsets and pristine surroundings, it's a haven for those who appreciate unspoiled nature. The lush greenery that leads down to the beach only enhances its allure.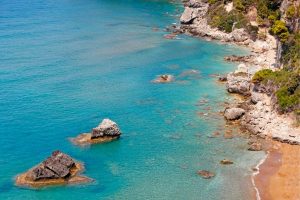 Paleokastritsa Beach
Nestled in a bay on the northwest coast, Paleokastritsa Beach is a gem that harmoniously blends natural beauty with historical significance. Surrounded by rugged cliffs, the turquoise waters and a charming monastery perched on a hill create an enchanting atmosphere. Snorkeling, exploring sea caves, and absorbing the rich history of the area make this beach a well-rounded destination.
Corfu's exotic beaches are a testament to the island's natural splendor and diverse beauty. From hidden coves and mythic channels to untouched stretches of sand, each beach offers a unique experience that will captivate and rejuvenate any traveler.
To make the most of your visit to Corfu and its stunning beaches, consider staying at one of our family Louis Hotels, Kerkyra Blue Hotel N' Spa or Louis Ionian Sun. Alternatively, for couples seeking a romantic getaway, Valmar Corfu – Designed for Adults, offers sophistication and tranquility.