Top beach & sea activities to do in Cyprus
A beach paradise, Cyprus offers a variety of beach destinations. From sandy bays to breathtaking cliffs, and everything else in between. Many of these serve as some ideal sea activities for you to enjoy this summer. Today we dive into some of the best beaches and water-filled activities the island of Cyprus has to offer.
Waterskiing & Wakeboarding
For those that have never been waterskiing or wakeboarding, this activity is a definite must. Unlike skiing and snowboarding, if you fall you won't get hurt. It takes a learning curve, however once you get it after a couple of tries, the sky's the limit, literally. Many pros aim for those sky-high jumps and so should you! These watersport activities are probably the most common and you can find them on almost any beach on the island. Some of our recommendations include Bay Watch Watersports in Limassol, Crest Water Sports in Limassol, Nissi Beach in Ayia Napa and Makronissos Beach in Ayia Napa.
Canoeing
This one is for those that like a more relaxed lifestyle (above water). Grab your canoe, and paddles and set off towards the deep blue. A perfect activity for couples and friends, canoeing offers you individual freedom as well as access to some spots that you wouldn't be able to access easily on foot. Moreover, it's much faster than swimming if you want to reach a place somewhat far from your starting point. Plus, you have the leisure to take in all the stunning scenery around you. As with most watersport activities, canoeing is very common and can be found almost on any beach with watersport facilities. Our notable beach locations ideal for canoeing includes Finikoudes Beach, Konnos Beach, Fig Tree Bay.
Parasailing
Moving onto the more seemingly 'extreme' activities. Parasailing is something that combines parachuting with wakeboarding. Honestly, this activity is less intense than either of those. In fact, it's a perfect watersport activity for you and your significant other to just take in the beautiful scenery around you, as you glide through the air above the water.
Kite Surfing
During the summer season you are not allowed to kitesurf on public beaches, so you need to go to the designated kitesurfing spots. The wind in the summer picks up at around 12 or 1 o'clock and stays like this until the sunset. In the wintertime, the wind picks up at any time depending on the forecast. The beaches that offer spots dedicated to Kite Surfing are Ladies Mile, Paramali, Akrotiri and Santa Barbara (all located in the Limassol district).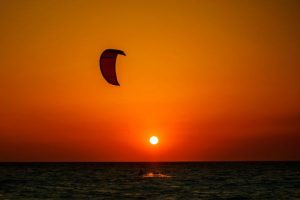 Boat trips
Cyprus also sports some fantastic boat tours/cruises. If you want to explore Blue Lagoon by boat, there's a cruise departing from Latchi Harbour. A great opportunity to take in the sights, relax, as well as dip into the azure waters without having to hassle back to the shore and get yourself back by car or foot. Remember to bring a mask and fins, as the lagoon beams with marine life that you don't want to miss. Stop for a swim in the blue Mediterranean waters and then enjoy the sunset from the deck as you sip on refreshing drinks from the open bar and refuel with a buffet dinner on board. If you are a sea lover visiting Cyprus this summer check out our hotel locations in Protaras.