Louis Hotels: 5 Reasons Why Cyprus Is The Best Family Destination For Your Vacation: A blog about Cyprus along with its top attractions
Cyprus has so much to offer to families and children of all ages, from stunning family-friendly locations, to guaranteed all-year-round fantastic weather, and a plethora of stunning beaches with water sports and activities that will keep the kids entertained for hours. So, whether you are considering Cyprus for your next family vacation and are looking for ideas on where to go and what to do, here's a complete guide on why this small island might be the best choice for you! 
Famous blue flag beaches


Cyprus is famous for its beautiful beaches, which feature golden, soft fine sand and crystal blue waters. 
Some of Cyprus's best blue flag beaches are Nissi Beach in Ayia Napa, Fig Tree Bay in Protaras, Coral Bay in Paphos, Aphrodite Beach in Limassol and Mackenzi Beach in Larnaca.
Many attractions/activities and days out available


There's a lot to do in Cyprus, and your children will definitely not get bored!
Why not take them to the Parko Paliatso Fun Fair in the heart of Ayia Napa, or to the Ocean Aquarium in Protaras? And if you are planning to visit Paphos, it is worth going to the Eagle Mountain Horse Riding Range.
Other fun activities for your children and adults as well include
Aphrodite Waterpark in Paphos

George's Fun Bus in Paphos (an educational and fun tour for children)

Dinosaur Park in Ayia Napa

Looney Land in Paphos (an indoor & outdoor playground)

Star Leisure Mini Golf in Protaras

Coral Bay Watersports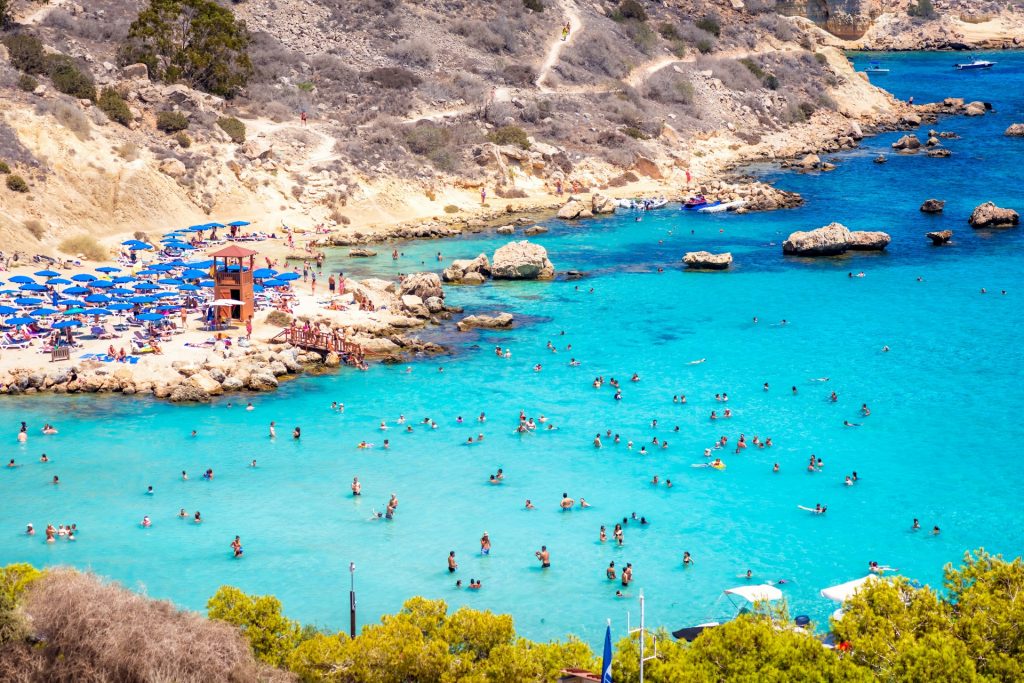 The weather is good all year round


Every year, Cyprus receives an average of 2,700 to 3,500 hours of sunshine, and
Summer starting from early June to the end of October, Cyprus is one of the best destinations to visit with your family, even not during high-season!
Variety of cuisines to enjoy


If you plan a family vacation to Cyprus, we can assure you that you will get to enjoy one of the best cuisines you have ever tried! Traditional Cypriot foods such as meat kebabs, olives, halloumi cheese, pita bread, and rabbit stews are available to satisfy even the pickiest foodies!





Some areas across the island, especially near the coast, offer a wide range of international cuisine, such as English, Asian, Mexican, Indian and other. 
Opportunities for learning and sightseeing


Of course, you don't want to make your entire family vacation educational, but if you can fit in a few fun cultural activities, we have a few options you can choose from!
Cyprus has a plethora of cultural and historical attractions, from the Byzantine castles of Paphos to the National Park of Akamas near the Polis region, which is home to a variety of wildlife species, including 168 bird species.

Other must-see historical and cultural attractions include the Kolossi Castle, located near Limassol, Cape Greco in Ayia Napa, The Tombs of the Kings in Paphos, and if you find yourself in the capital you should definitely visit the Nicosia's old town and Famagusta Gate.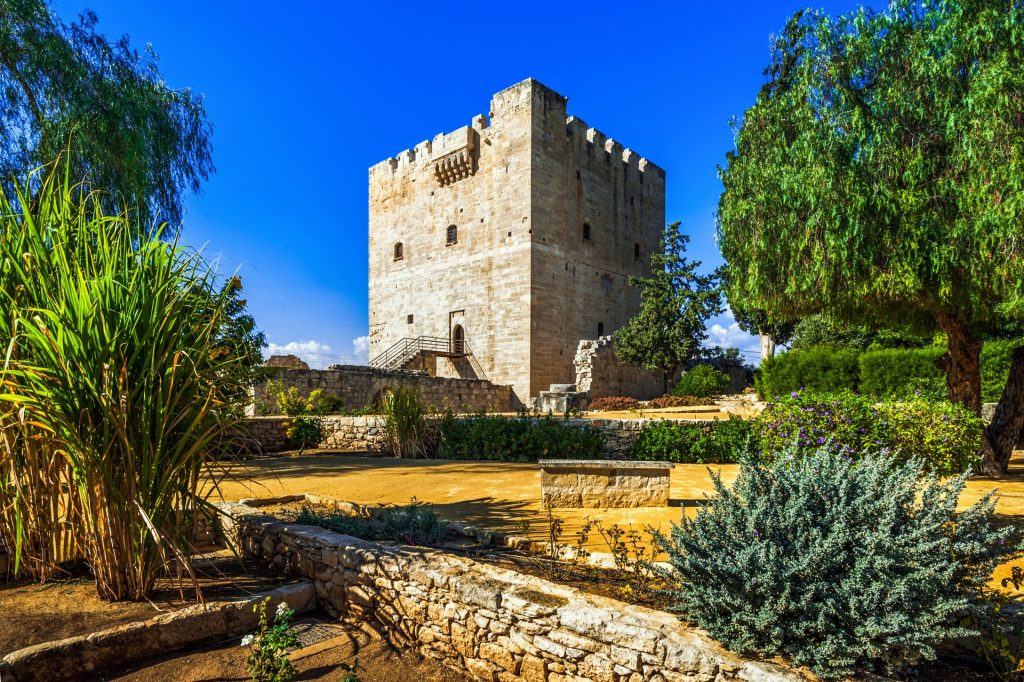 Luxurious accommodation at the best family hotels
Cyprus has a wide range of luxurious and affordable hotels that will provide you and your family with warm hospitality and friendly service in a relaxing, stress-free environment, as well as a variety of activities and facilities to suit your needs!

Some of the best family hotels in Cyprus are the Louis Imperial Beach, Althea Beach, Sofianna Resort & Spa, Nausicaa Luxury Villas and Paphos Breeze. 
Louis Imperial Beach
The award-winning Louis Imperial Beach hotel is surrounded by tropical gardens and is just steps away from the brilliant blue Mediterranean waves. This 4 Star hotel in Paphos combines ultimate comfort and elegance and is ideal for families who want to enjoy the complete relaxation by the beach or the pool!

The hotel's buffets aim to take you on an amazing gastronomical adventure offering sensations that will satisfy even the most demanding guests!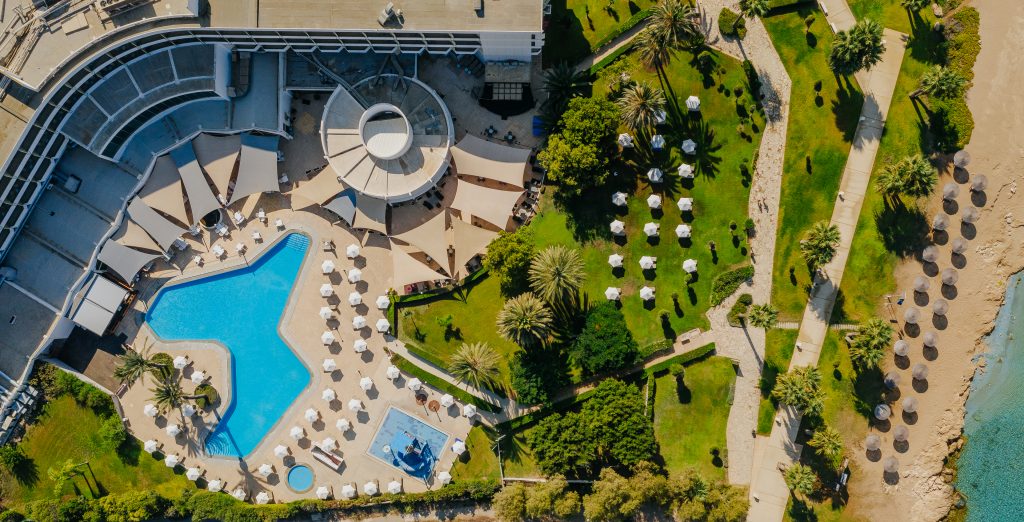 Amorosa, the hotel's main restaurant, has also been completely redesigned and renovated, and now features demonstration cooking stations, extensive buffets, and al fresco eating. The lobby and main bar of the hotel have also been upgraded with new furniture, giving it an entirely new look.

Whether you are looking to have an adventurous, active or a relaxing holiday, Louis Imperial Beach has the facilities to accommodate all your needs, offering you a unique holiday experience.

Althea Beach 
This 5 Star family hotel is the perfect choice for families who just want to relax but at the same time have direct access to the beautiful crystal blue waters and golden sun of the area! The complex offers exceptional accommodation with sea-view rooms, and first-class services including a spa centre, a sauna, restaurants with both buffet and a la carte menu, cleaning services, and entertainment for all people of all ages.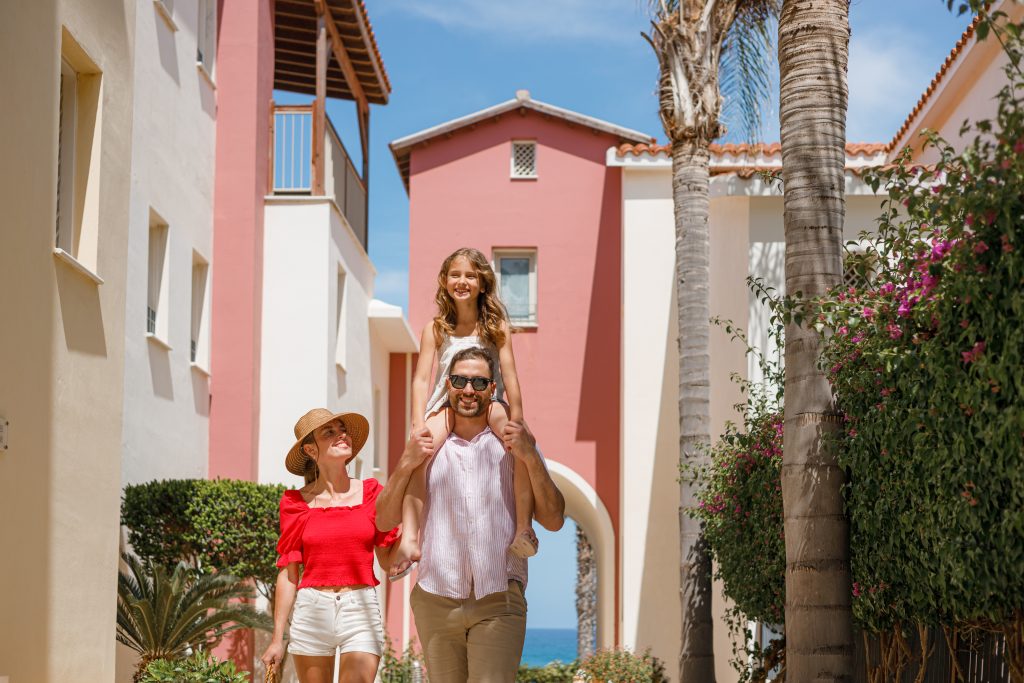 All rooms come with free Wi-Fi, air conditioning, a private bathroom with a shower or bathtub and a hairdryer, a flat-screen TV, a safety deposit box, and a kitchenette with a small fridge and a coffee maker. Some rooms also have their own seating area which is ideal for families to relax and spend some quality time together. 

Sofianna Resort & Spa
The stunning walkways by the sea at the 4* Sofianna Resort & Spa, will definitely be different if you choose Paphos for your holiday destination!

Its location is ideal for anyone who wants to take advantage of its high-quality amenities and services – available for the whole family, as well as being close to all attractions.
Enjoy the ultimate dining experience with buffet options available for small children and special menus. as well as tasteful and refreshing drinks from the 1900 Lounge Bar, Ammos Bar, and Thalassa Bar.

The resort also offers two large swimming pools, a splash-themed children's pool, spa amenities with saunas, jacuzzis, and treatment rooms, as well as a fitness centre.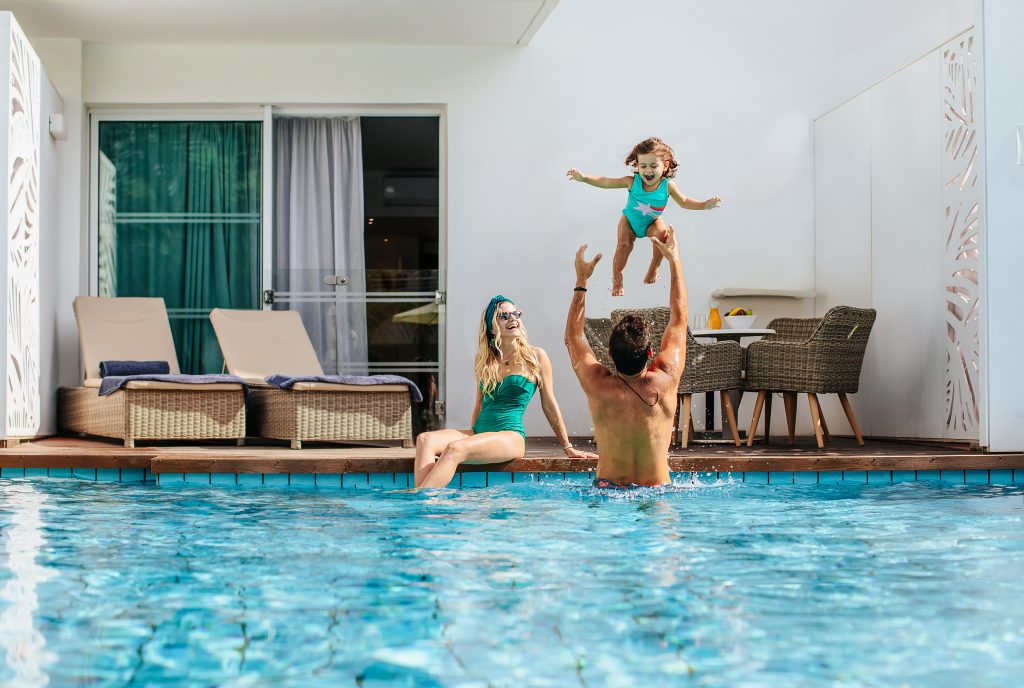 Nausicaa Luxury Villas
For those who want to have an exclusive holiday in Protaras then Nausicaa Luxury villas are the perfect option!
These two and three bedroom luxury villas with private pools are great for families who prefer a quiet vacation. Guests staying at this luxurious hotel, can enjoy a wide variety of tasty food and drinks at the Nausicaa Beach's modern food courts and sea-view bars, or even order an all-inclusive meal plan to get the whole Nausicaa experience.
Paphos Breeze
The Louis Paphos Breeze is located on the seafront with views of the Mediterranean Sea, surrounded by spacious gardens in a huge area with magnificent panoramic views.

The hotel offers luxurious and spacious suites for families, making it ideal for relaxing and comfortable holidays in Cyprus.

Paphos Breeze has a large restaurant with an enormous buffet, a brand new themed restaurant offering a unique culinary dining experience, and three bars where you can take your drink on the patio and have a wonderful time.

Kids can also spend their time in the indoor animation area and at the kids club that offers a number of fun and exciting activities.
Overall, all hotels aim to provide the Louis experience: warm hospitality, great value, a genuine local experience, and top-class service!

For more information regarding each hotel, or to book your accommodation in one of our family hotels in Cyprus, visit Louis Hotels website.

Alternatively you can download the exclusive app on your mobile phone and take advantage of the free cancellation, zero prepayment, extra discount with free enrolment as well as other exclusive offers.

So, what's keeping you from booking your ticket to Cyprus? You're 1… or a few clicks away!