3 reasons to visit Cyprus in May
Cyprus is a small island with a big personality, and one of the best times to visit it is May. The perfect weather is ideal for outdoor activities, with warm days and cool nights. This is the best time to explore Cyprus's many hiking trails and cycling routes, taking in the island's stunning scenery with blooming flowers and green landscapes, and a range of local festivals.
In May, nature blooms in Cyprus, with vibrant wildflowers covering the countryside. The island's dams are also worth a visit, as they are in full flow during this time of year. The most important ones are the Germasogeia Reservoir, a popular spot for walking or fishing, as well as for sports such as canoeing, and the Kalopanayiotis Reservoir, which offers impressive views of the lake and surrounding hills, providing a peaceful and picturesque experience.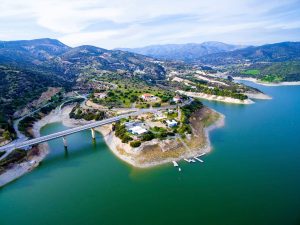 To fully enjoy Cyprus's spring bloom, you cannot miss two of the most important nature parks. First, Athalassa National Park, where visitors feel like they are in a forest, is a popular area for mountain biking, and the park's Botanical Gardens are open daily and free of charge to visit. Second, the Akamas Peninsula is one of the best-preserved natural areas on the island. Its beaches are one of the few places in the Mediterranean where sea turtles come to the shore to lay their eggs, and it happens in May!
In addition to the natural beauty, May is also a time for local festivals. It is a month filled with festivals such as the Rose Festival in Agros, The Anthestiria, Limassol Boat Show, and the Bikers Festival. These festivals offer a unique opportunity to experience the culture and traditions of Cyprus.
The Roses Festival in Agros offers the chance to experience traditional rose production, participate in rose harvesting, enjoy food and drinks made from roses, and attend dance and musical performances. Anthestiria is a floral festival in Limassol that celebrates nature and spring. It includes a floral exhibition, flower parade, sale of flowers, and music and dance performances. The Limassol boat show showcases the latest boats, yachts, and other watercraft. Visitors can enjoy live music, food, and drink while admiring the beautiful boats. The Cyprus Bikers Festival is an event for motorcycle enthusiasts featuring rider shows, exhibitions, games, and food and drink vendors.
Visiting Cyprus in May is an excellent option for those who want to enjoy the warm and sunny weather before summer arrives. With fewer tourists and lower prices, travellers can explore the national parks, beaches, or festivals of this season. If you're planning a trip to Cyprus in May, make sure to stay at Louis Hotels for a comfortable and unforgettable experience.