3 picturesque villages to visit this summer in Cyprus
Authentic Cyprus can be discovered in its small, quaint and traditional villages. Situated away from the mainstream, bustling cities and tourist hot spots, these getaway villages offer an ideal spot for a quaint and tranquil experience during your holidays.
Pedoulas Village
Situated in the Marathasa Valley of Troodos, Pedoulas village lies at an altitude of 1,100 metres (remember to bring a jacket as even during the summer the temperatures may be lower than expected). This beautiful village is nestled amidst lush orchards, particularly known for its cherries and fruit produce.
Once in the village, you won't suffer from any boredom. There are plenty of sites to visit and the views within the village itself are enough to satisfy your optic desires. A long-standing religious history and culture are a big part of the village. The church of Archangelos Michael (1474), ranks among the most impressive Byzantine churches in Cyprus with its amazing frescos. The church is part of the route of 10 Byzantine churches, which are included on the UNESCO World Heritage List. Definitely worth a visit!
Kakopetria Village
 Another picturesque village is Kakopetria situated in the Troodos Mountain range. A popular summer resort, this stunning place stretches across the Karkotis Valley, surrounded by breath-taking scenery of pine forests – as refreshing as they are impressive. The old quarter of the village – with its narrow, stone-paved alleys and its traditional houses with their wooden balconies have been restored – has been declared a protected cultural heritage site. With several other interesting sights, including the Linos Museum and Olive Mill museum, you can truly witness an authentic local experience of day-to-day life in the heart of Cyprus. The watermill 'Mylos tis Gonias' was used to grind barley and grain from 1754. You should definitely check it out while you're there.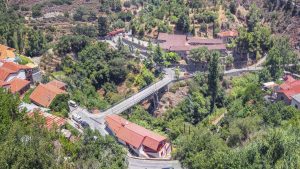 Kalopanagiotis Vilage
 Another village located in the Troodos mountain range, Kalopanagiotis is filled with local culture and history.  The Monastery of Agios Ioannis Lampadistis at Kalopanagiotis, is on the UNESCO World Heritage Site list, and features three Byzantine churches with well-preserved frescos dating back to the 9th and up to the 15th century. The village charm doesn't end there. Its old chapels and churches, the quaint, cobbled streets and footpaths that lead to beautiful nature trails, are a must-see during your visit.
Looking for accommodation during your stay in Cyprus? Check out all of our hotels in Cyprus here.