Louis Hotels: The Best Hotels in Paphos
Paphos is a thrilling holiday destination with a bright, modern and progressive vibe, whilst maintaining its status of a traditional harbour town with a rich history – the town as a whole is on the UNESCO list of cultural and natural treasures such as Laiki Gonia and Akamas, with many of its historical sites (e.g., Petra tou Romiou, the Baths of Aphrodite, the Ancient Odeon, and the House of Theseus) linked to ancient Greek mythology. Paphos offers a 360-degree holiday experience and accommodation to meet all of your demands, whether you are searching for an adventurous, active, or restful vacation!
The King Jason Paphos
Located in a peaceful residential area near the heart of Kato Paphos and recognized for its homey, family-like environment, guests have described their stay at this hotel in Paphos as a "home away from home."
The King Jason hotel is a short walk from the beach, the gorgeous fishing harbour, and the ancient fort, allowing guests to experience the city's rich archeological attractions as well as the many and varied resort facilities.
The King's Avenue Mall is just a short walk away for those who enjoy shopping. A range of local restaurants and bars are also within walking distance, allowing tourists to fully immerse themselves in the Cypriot experience.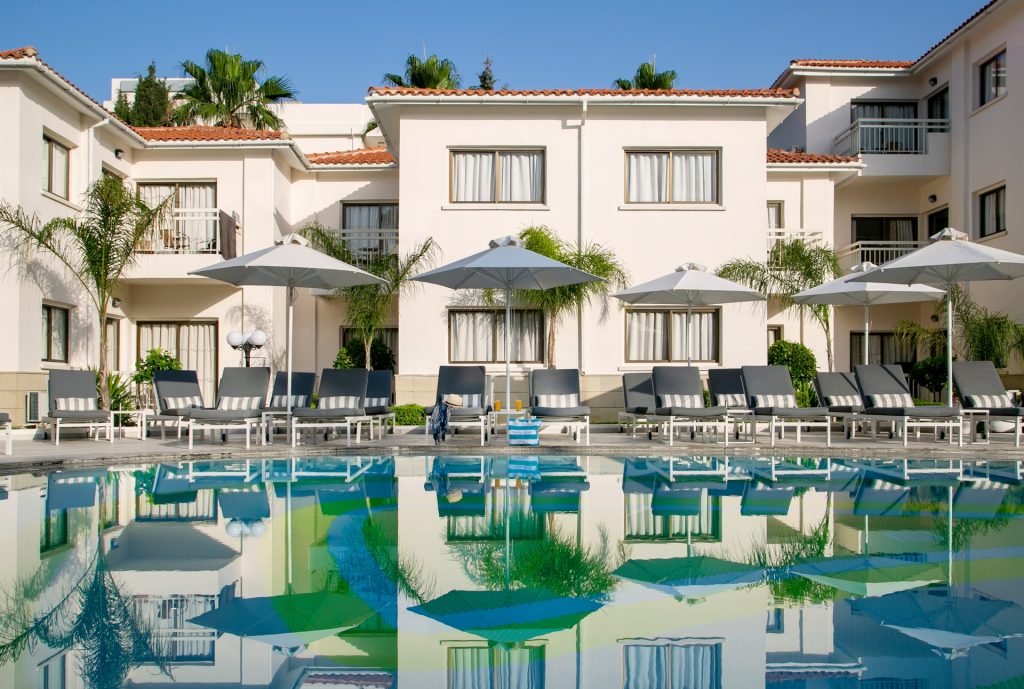 The King Jason features a new outdoor bar overlooking the main pool and hydro pool, a renovated interior pool and fitness area, a spa with Jacuzzi (free to all hotel guests) and two treatment rooms in the indoor pool area, a main restaurant "Piatakia Restaurant," a new lobby where you can socialise and catch up with friends over a tasty coffee and an extension of the Elegancia Pool deck. Indoor showers and toilets have been installed near the main pool. Installation of free internet spots in all rooms and public places, including the reception, the pools, bars, and sunloungers.
The Deck offers stunning views of the Hydro and Centro pools, with comfy seats and is an excellent alternative to The Lobby bar for casual drinks and great cocktails.
Opposite The Lobby bar and leading onto the Elegancia pool, The Library is a quiet area, with floor to wall bookshelves and cosy furnishings. It is designed to offer the ultimate comfort and provide guests with a peaceful and comfy living area ideal for reading or wherever they feel like doing to relax!
Sofianna Resort & Spa
The 4* Sofianna Resort & Spa is located in the heart of Pafos, with breathtaking walkways near the sea that are great for outdoor relaxation and enjoyment. Its location is ideal for individuals who want to enjoy high-quality facilities and services for the entire family, as well as being easily accessible by public transportation and within walking distance of all attractions.
This hotel in Paphos consists of 172 beautiful rooms, with a stylish elegant design to offer comfort and relaxation. All rooms are equipped with air-conditioning, telephone, LCD television with international channels, high-speed Internet, safety deposit box and all the touches of a 4 star hotel.
If you are a big family of 4 or 5, you can request to stay in one of the interconnecting rooms to enjoy your holidays with no hassle. All rooms and common areas are non-smoking, however there are some rooms and areas specifically designed for smokers.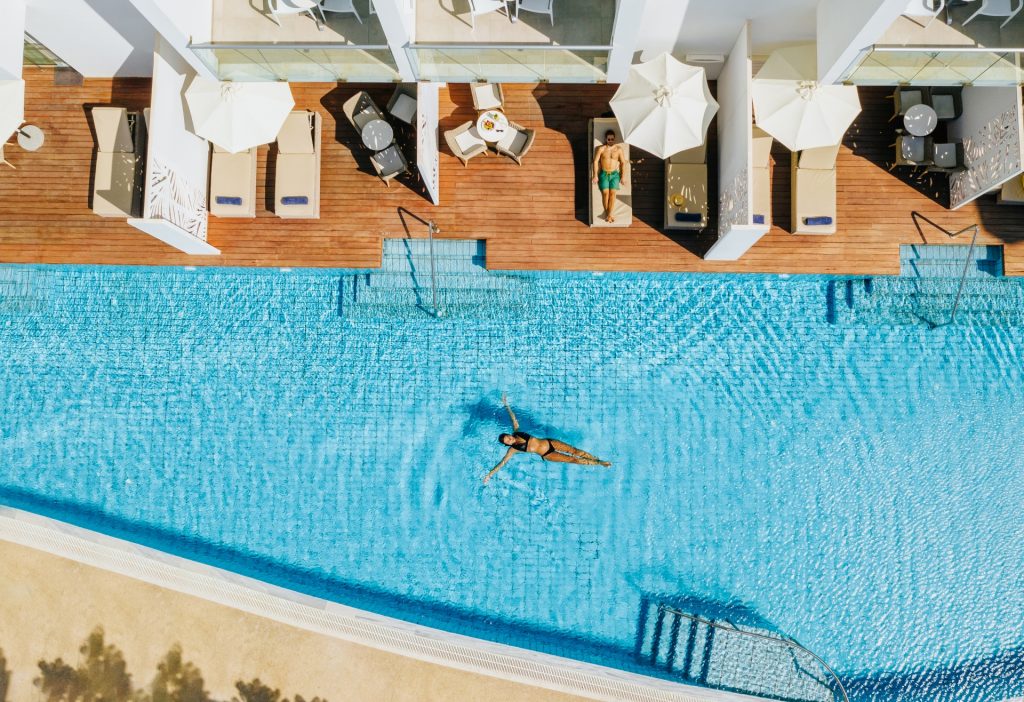 At Sofianna Resort & Spa there's always something to do, therefore there's no single day of your stay you'll get bored! The hotel offers a wide range of restaurants with special menus and kids buffet (Elea Main Restaurant, Mesogios Restaurant and Mylos All day snacks) and bars (1900 lounge bar, Ammos bar and Thalassa bar) two large swimming pools, a themed splash children's pool, as well as spa facilities with sauna, jacuzzi and treatment rooms, and a fitness room for those who don't want to skip on their leg day!
Once you arrive at the hotel, you will find all the information needed about the island and the town itself – including maps, activity schedule and hotel entertainment at any time of the day.
The hotel's friendly staff will be at your disposal 24/7 for any further queries you may have and they will make sure to make your stay as pleasant as possible!

Louis Ledra Beach
Breathe in the fresh Mediterranean wind and the enticing scents of the Paphos coastline as you relax in the sun and swim in the sparkling blue seas. The Louis Ledra Beach Hotel is a hotel in Paphos located on the seaside with views of the Paphos coast and its magnificent Cyprus waters, and close to significant historic attractions, shops, and entertainment – our family hotel allows you to conveniently explore the entire Paphos area and all of its delights.
Daytime activities and evening entertainment couldn't be missed in this super all-inclusive hotel! All activities are organised by the hotel's enthusiastic entertainment crew to ensure there is something for everyone at all times.
The hotel, in particular, provides two swimming pools (one for adults), a tennis court, beach volleyball, spa treatments with sauna, massage, and fitness room with basic fitness equipment, aerobic classes, and children's facilities such as a swimming pool, playground, mini club for children up to the age of 12 and special food menus!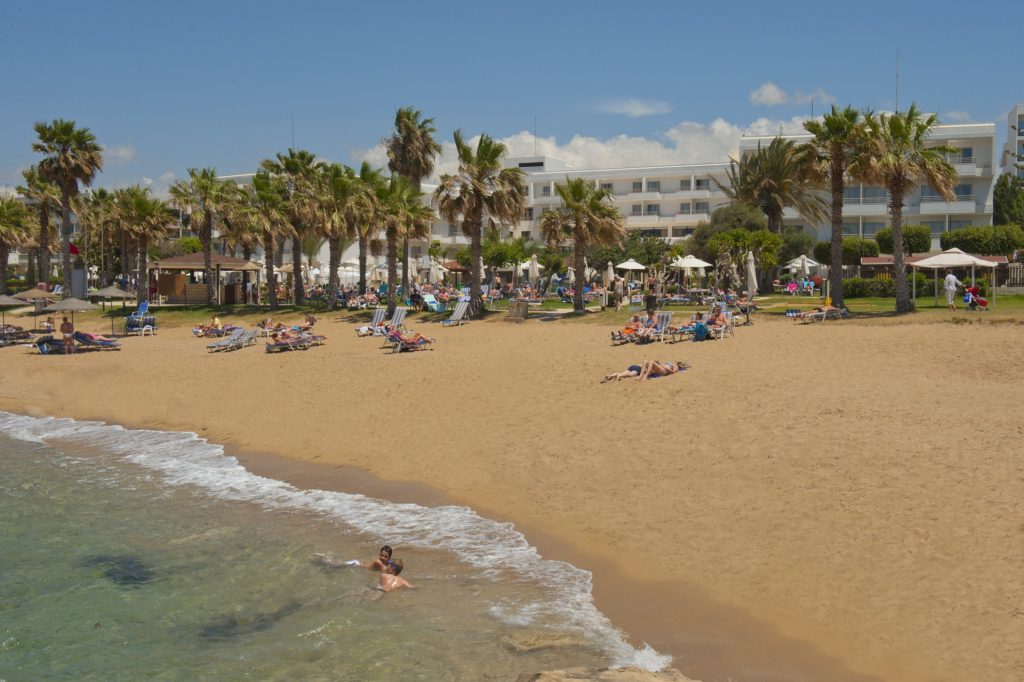 The all-inclusive package offers a whole new level of holiday experience by adding free daily mini-bar refills in the room (soft drinks and water), as well as a Traditional Meze Night once a week, whereas the fully renovated Anemi Restaurant offers live cooking stations and extensive buffets, serving buffet breakfast, lunch, and dinner.
And if you want to drink some cocktails, the Louis Ledra Beach hotel has three bars (Gazebo Lounge and Cocktail Bar, Waves Beach Bar, and Sundowner Pool Bar), all of which serve your favourite cocktails and beverages till late at night!
Finally, Louis Ledra Beach is at the top of many wedding planners' selection of hotels due to the stunning Mediterranean backdrop and wedding settings.
The combination of its unique wedding themes, incredible food and beverage options and magnificent location all contribute to the creation of the ideal day for the most significant day in a couple's life.
The Ivi Mare – Designed for adults
Opened in May 2019, The Ivi Mare is a new premium 5 star hotel for adults with a modern contemporary style, located 12 kilometers from Paphos airport and a half-hour walk from Paphos' Medieval Castle.
Superior rooms and suites with outdoor jacuzzi are available at The Ivi Mare and include a balcony, a private bathroom with a bath or shower, with many having a front sea view. Each room at The Ivi Mare has a mini bar, a complimentary safe, a Nespresso machine, tea and coffee making facilities, bathrobes and slippers, and an ironing set.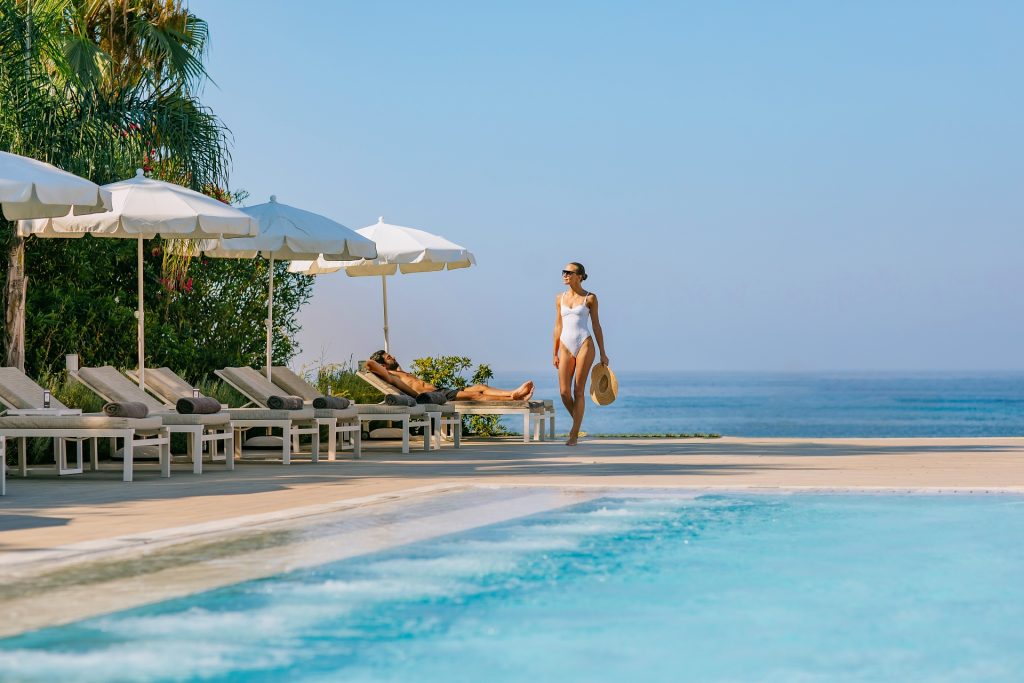 The Ivi Mare offers Bed & Breakfast, Half-Board, and Premium All-Inclusive packages.
The hotel's facilities include the largest outdoor pool in Paphos, measuring 750 square meters, with its own pool bar "Utopia" where you can enjoy cold beverages and cocktails, as well as a 10-seater jacuzzi, an indoor pool, and a spa with a fitness room, sauna, steam room, and massage services.
"Palettes", their main restaurant, serves breakfast, lunch, and dinner buffet style with show cooking, and its two other a la carte restaurants (Meze by Elliniko Greek restaurant and Akakiko Easy Japanese Dining) offer guests traditional and Asian flavours.
Theme nights are also available seven days a week for those who want to have a taste of different cultures!
Louis Imperial Beach
Louis Imperial Beach hotel is surrounded by tropical gardens and is only a few feet from the stunning blue Mediterranean sea. This four-star hotel in Paphos invites its guests to enjoy moments of pure calmness and relaxation, while also offering the highest comfort and elegance.
Those who like to unwind on the beach or by the pool can do so while enjoying cold refreshments from the Pool Bar.
The hotel's exquisite buffets aim to take you on an amazing gastronomical adventure by providing flavours that will satisfy even the most demanding guests!
In 2020, Louis Imperial Beach received significant renovations, including new restaurants such as a completely new burger concept called "Pygmalion" as well as a new design to its current Japanese eatery "Mura" by Akakiko Asian food. The hotel's main restaurant, "Amorosa", has also been entirely restored and renovated, with live cooking stations, extensive buffets and al fresco dining. The hotel's lobby and main bar have also been updated with new furniture, giving it a completely new look.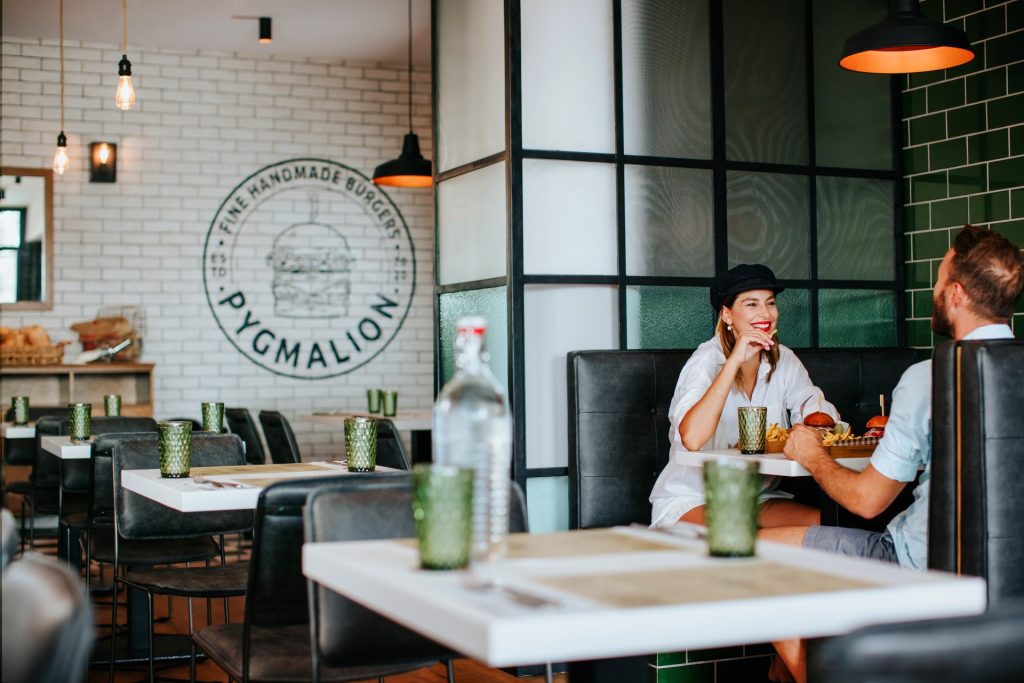 All Louis Hotels aspire to provide genuine hospitality in a relaxing, stress-free environment, to all its guests.
All hotels provide the Louis experience: warm hospitality, great value, a genuine local experience, and courteous service from multilingual employees.
For more information regarding each hotel, or to book your accommodation in one of these hotels in Paphos, visit Louis Hotels website or down the exclusive app on your mobile phone and take advantage of the free cancellation, zero prepayment, extra discount with free enrollment as well as other exclusive offers.