3 impressive monasteries in Chania you should visit
When thinking about your trip to Crete you probably imagine the crystal-clear waters, Blue Flag beaches and fauna, and flora as stunning as can be. But Crete also has a long religious history, and the impressive monasteries scattered all around the island, prove it.
Let's jump right into our list of Monasteries worth visiting during your stay in Chania, Crete.
Agia Triada
One of the most renowned monasteries in Crete. Agia Triada was built at the bottom of Tzombylos peak, during the 17th century. Believe it or not, two monk brothers called Leremias and Lavrentios Tzagarolos put the work in and erected this stunning building. Their work was that much more difficult as it took place during the revolution of 1866. Eventually leaving the monastery abandoned, then used again later in 1877 for numerous revolutionaries' meetings.
Gouvernetou Monsatery
The second pick on our list is the Gouvernetou Monsatery. Designated as a preserved monument in 1900, it's located 4km away from the Tzagarolon Monastery. Located among lush greenery, the monastery is home to a beautiful church dedicated to our Lady of the Angels ("Kyria ton Angelon") and located in the centre of the courtyard, with a dome-covered shape and facade made by recognizable artists of the region.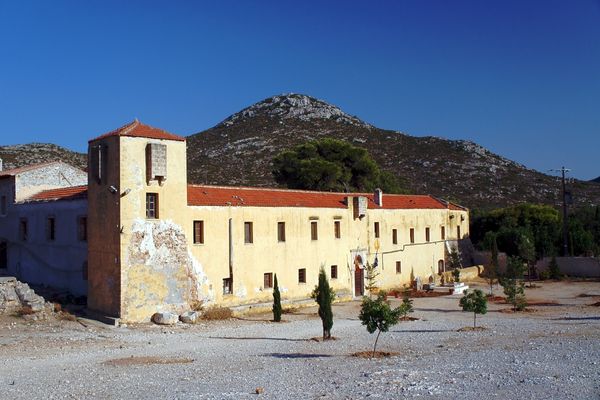 Monastery of Agios Ioannis
Probably the most ancient monastery in Crete, the Monastery of Agios Ioannis has been abandoned for quite some time. Its conception dates back to the 6th or 7th century and is a true testament to the ingenuity of location and design (even back in those days!). Looking as if it climbed up the Avlaki gorge, the monastery is nestled in a truly enchanting spot. Surrounded by verdant greenery, it blends in perfectly, making it our top monastery pick for you to visit during your stay in Chania.
Make sure to book your stay at the ideal location. Asterion Suites & Spa is just that… Ideal! Set in an idyllic beachfront location, this Cretan chic hotel draws from the myth of Asterion as much as from Crete's natural beauty, welcoming guests into an exclusive kingdom where traditional craftsmanship meets contemporary luxury, where eating ambrosia and drinking nectar reveals our star-made essence.